Vetgans
Once upon a time there lived a penguin. It loved eating fish, so it started to slide around the ice to find flailing fish. Can you help it find all the fish?

Vetgans is a compact and easy-going puzzle game for the Game Boy. Each level you have a limited amount of moves to reach your goal - fish! Don't worry about failing, you'll get another try.
Vetgans was made in GB Studio. You can play it online in your browser or on your smartphone. You can download the .pocket file to play it with an Analogue Pocket and you can download the .gb file to play it with a Game Boy emulator.
Vetgans was made with the amazing GB Studio software. I created pixel art using DALL-E, Gimp and Piskel. Music is made by TipTopTomCat and sounds are made by Coffee Bat.
"Vetgans" is an old and seldom used Dutch word for "penguin".
Feedback

Feel free to leave a comment if you have any feedback concerning the game or if you encounter any bug (or - of course - if you enjoyed the game). Small updates can be made to the game resulting from the feedback.
Download
Click download now to get access to the following files:
Comments
Log in with itch.io to leave a comment.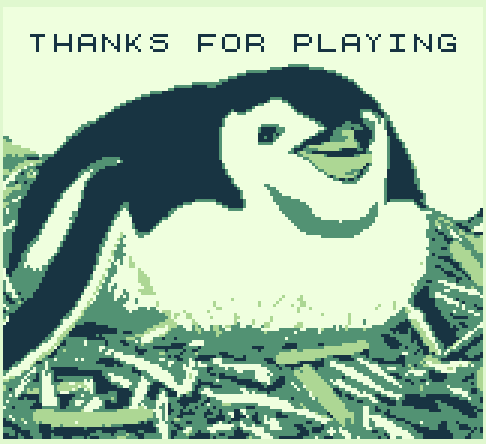 Great work. A good rating well deserved.
Well executed! I liked the concept and the sprite art was cute. I'm a sucker for penguins. Good choice of music and it's impressive the sound effects don't interrupt the background track. Overall good puzzle design. I had a few "aha" moments, especially on level 10. Level 12 was great. The reward screen after level 8 was my favorite. I do wish the art style of the reward images was a bit more consistent. I'm assuming that's a result of the use of AI generation. Also, level 4 seemed harder than it should have been. Maybe would fit better later in the order. Great job on the whole!

Thank you very much for your kind words and constructive feedback! I will definitely keep it in mind for a possible update.
This was cute! I liked it! Especially all the terrifying penguin art!